about us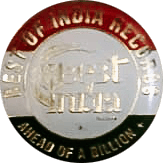 Best of India Records (BIR), published by IN-Cube Media, is a record book based in Delhi, India. As the most reliable registry of records, it aims to promote excellence in every field by celebrating the unique and outstanding achievements of India and Indians. The BIR byline ' Ahead Of A Billion+' not just reveals this thrust but seeks to inspire and challenge everyone to bring out the best in him/her and to stand out among the billion-plus population of this country. And perhaps, the world!
BIR brings to the limelight the extraordinary achievements of the people who can dream big, the stories of their perseverance and passion to win. It nurtures a daring and never-say-die spirit to conquer new heights, tame the untamed and venture into new challenges and tough terrains. The sky is the limit for such achievers!
BIR showcases the best of India under broad sections dedicated to areas such as business, government, transport, communication, education, science, nature, agriculture, entertainment, arts, sports, and many more. It recognizes a wide range of records from new discoveries and unique accomplishments to the first, fastest, and biggest of all. At BIR, new records are set and the old ones are broken on a daily basis!
Decades of experience in the fieldset apart the BIR Team from the rest. No other record book in the country, or maybe the world, can boast of such expertise! BIR also has access to a vast repository of well-researched record data. Powered by these resources, BIR offers the best platform and authentic service to all those who aspire to set worthy records.
Everyone is welcome to attempt the Best-of-India records and join the BIR club of famed ones!